Outsiders would never have guessed that the company behind the spectacular sedan pulling crowds ten-deep at the 1976 London Motor Show was on its knees.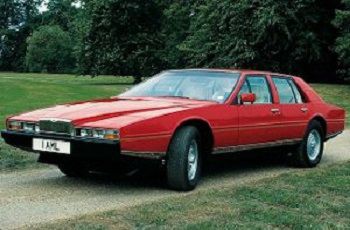 Aston Martin Lagonda 1976
YEAR REVEALED 1976
PLACE OF ORIGIN Newport Pagnell, Buckinghmshire, UK
HISTORICAL STATUS production car
ENGINE V8-cylinder, 326ci (5,340cc)
MAXIMUM POWER 300bhp (Series 3, with fuel-injection)
LAYOUT front-mounted engine driving the rear wheels
BODYWORK four-door, four-seater sedan
TOP SPEED 145mph (233kph) (Series 2)
NUMBER BUILT 645
But Aston Martin was staring bankruptcy in the face in the spring of 1976 when, as a last-ditch attempt to save the company, its directors decided to create a four-door sedan to put even Rolls-Royce and Maserati in the shade for impact and sumptuousness. Heroic work by stylist William Towns and engineering head Mike Loasby ensured the car was the motoring media event of the year.
Although using reworked and lengthened Aston Martin V8 underpinnings, the relationship was far from obvious: the dramatic, sleek, wedge-shaped sedan was a world away from Aston's voluptuous curves. Inside was an automotive breakthrough: the world's first car with a totally digital, touch-sensitive dashboard using LEDs and a microprocessor to activate controls.
In truth, it was a somewhat premature use of the technology because the system proved difficult to perfect and unreliable to use. In 1984, the display was changed to cathode ray tubes, and later to fluorescent vacuum. Despite taking 170 deposits at its Earl's Court unveiling, delays were emblematic of the Lagonda's hasty development.
The first car wasn't delivered until 1979, by which time the price had risen to £32,000. Despite the teething problems, the Lagonda proved a strong seller, particularly in the Middle East. No doubt, too, it saved the great British Aston Martin marque from oblivion.