Conceived as an alternative to the "bubble cars" popular at the time of the 1956 Suez Crisis, the Mini revolutionized small-car design. Its front-wheel drive and transverse engine established the pattern for the modern motor car, putting manufacturer BMC (British Motor Corporation) in the technological forefront.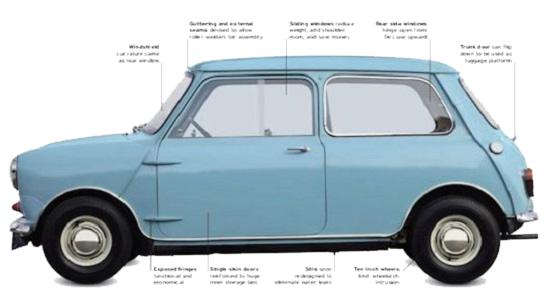 SPECIFICATIONS
Austin Mini Mk1, 1959–67
Model Austin Mini MkI, 1959–67
Assembly Mainly Longbridge, UK
Production 435,000
Construction Steel monocoque (separate subframes)
Engine 848 cc, ohv straight-four
Power 34 bhp at 5,500 rpm
Transmission Four-speed manual
Suspension Rubber cone or hydrolastic
Brakes Drums front and rear
Maximum speed 72.4 mph (117 km/h)
It also became an emblem of the freewheeling 1960s, its cheeky charm boosted by the rally successes ofthe Cooper version. The Mini was assembled in several countries, and over 5 million had been made when production ended in 2000.
THE MINI'S appeal did not rest just on its small size and trim, functional lines. Above all it had astonishing packaging; its body was 10 feet (3 meters) long and accommodated four people and their luggage as well as an orthodox four-cylinder engine. It also had excellent responsiveness and handling, and soon became the darling of avid drivers.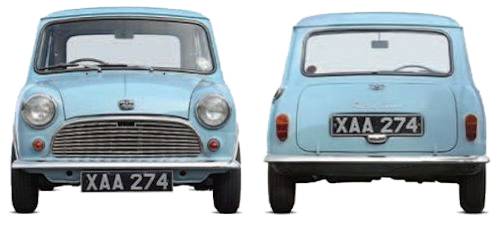 Variations included the sportier Cooper, the more luxurious Wolseley Hornet and RileyElf, the Jeep-like Moke, a van, and a pickup. In 1969 the up-market Clubman was introduced, with an extended nose. Mechanically, the car was gradually refined, but the only significant change was a softer rubber-and-fluid independent suspension, introduced in 1964 and removed in 1971. Later the car failed to compete with the new generation of bigger and more comfortable "superminis," and sales fell away.
Form follows function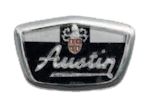 The Mini's austere appearance was marked by a distinct lack of embellishment. Its creator, Sir Alec Issigonis, affected a disdain for styling, but he had a fine eye for line.
The Mini in its original form was largely his work, refined by his body draftsman, with limited involvement from BMC's styling chief. Ironically, its simple functionality was what would ultimately establish the Mini as a fashion icon.
A touch of tradition
The Austin logo, shared by BMC's other Longbridge models, features a script evolved from that used since the 1920s-most notably on the original 1922–39 Austin Seven.