Who would have guessed that the brutal communist dictator Joseph Stalin had a secret, and decadent, car passion-he loved large American Packard limousines.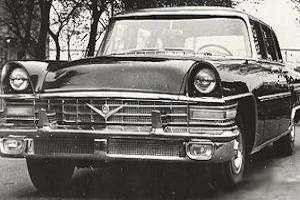 Zil 111 1958
YEAR REVEALED 1958
PLACE OF ORIGIN Moscow, Russia
HISTORICAL STATUS production car
ENGINE V8-cylinder, 365ci (5,980cc)
MAXIMUM POWER 220bhp
LAYOUT front-mounted engine driving the rear wheels
BODYWORK four-door, sevenseater limousine
TOP SPEED 96mph (154kph)
NUMBER BUILT 112
In fact, he loved the traditional majesty of the Packard Super Eight so much that he ordered the country's premier truckmaker, ZIS, to manufacture a close copy that would then be used as official transport for government ministers, other dignitaries, and official parade car duties.
Thus, until 1958, the country's top car, the ZIS 110, was a regal, but increasingly dated, behemoth. Stalin died in 1953, and three years later so did Ivan Likhachev. Little known internationally, Likhachev had been the director of the ZIS plant in Moscow, and was held in such esteem that the factory was renamed ZIL in his honor.
The program to replace the ZIS 110 was well underway, and the new car was finally revealed in 1958. The Russians might have been proud of their chrome-laden ZIL 111 but, to western eyes, it was already behind the times, resembling a Packard Patrician frontage grafted on to a Chrysler Crown Imperial body.
At 65in (164cm), it was taller than the American cars it imitated, and was extremely heavy, needing a 365ci (5,980cc) V8 engine and automatic transmission to haul it along. This sinister car was luxuriously appointed within, with leather seats, air conditioning, and electric windows. The sight of ZIL 111s thundering along their dedicated lane on Russian highways must have inspired amazement among the average citizen.