In the ration-book Britain of the early 1950s, the sight of a Bentley Continental must have slackened many a jaw. Here was one of motoring's ultimates: the fastest genuine four-seater car in the world-it could top 120mph (193kph) effortlessly-and one of the most beautiful.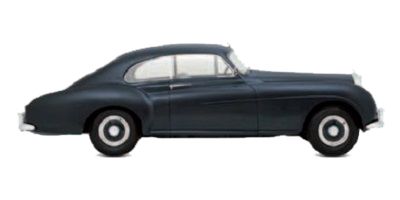 Bentley R Type Continental 1952
YEAR REVEALED 1952
PLACE OF ORIGIN Crewe, Cheshire and London, UK
HISTORICAL STATUS production car
ENGINE six-cylinder, 279–298ci (4,566–4,887cc)
MAXIMUM POWER 158–172bhp
LAYOUT front-mounted engine driving the rear wheels
BODYWORK two-door, four-seater coupé
TOP SPEED 124mph (200kph) (298ci /4,887cc)
NUMBER BUILT 208
Shaped in Rolls-Royce's Hucknall wind tunnel, Crewe's flagship was an owner-driver super-coupé, its bold, distinctive fastback profile influenced, although no one would admit it, by the 1948 Cadillac 62 Coupé. The Bentley grille still stood proud and tall but the tail fins kept the Continental tracking straight at high speed. The Continental's alloy bodywork was built in London by H. J. Mulliner on a special high performance chassis.
The 279ci (4,566cc) engine breathed more freely than in the standard R-type sedan thanks to a higher compression ratio and a big bore exhaust. Gearing was higher, and the scuttle and steering column lower to achieve a sleeker line. The weight-loss regime for the first sporting Bentley since the 1930s included aluminum bumpers (rather than steel) and lightweight-alloy bucket seat frames.
But passengers still traveled in style: there was room for four occupants to travel in lavish leather surroundings; and the driver enjoyed a full set of instruments including rev-counter and oil temperature gauge. On the road, the Continental had a fantastically long stride, with 80mph (129kph) in second gear, and 120mph (193kph) in top gear. For the seriously rich, there was no faster way of escaping the gray skies of post-war Britain.