BAT stands for Berlinetta Aerodinamica Tecnica-the codename given to three experimental Alfa Romeo 1900s, each handbuilt in the 1950s. They were the work of young Italian Franco Scaglione, employed by the renowned coachbuilding company Bertone.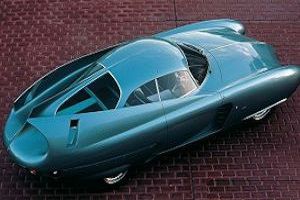 Bertone, Alfa Romeo BAT 7 1954
YEAR REVEALED 1954
PLACE OF ORIGIN Milan and Turin, Italy
HISTORICAL STATUS prototype
ENGINE four-cylinder, 121ci (1,975cc)
MAXIMUM POWER 100bhp
LAYOUT front-mounted engine driving the rear wheels
BODYWORK two-door, two-seater coupé
TOP SPEED 125mph (201kph)
NUMBER BUILT one
The project extended a joint venture between Alfa Romeo and Bertone, in which the rapidly expanding (yet familyowned) coachbuilder designed and built bodies for Alfa's Giulietta Sprint GT. Designer Scaglione's aims were to reduce drag when a car was turning, increase frontal downforce, and create shapes that produced minimum turbulence.
Another of the parameters was to take a chassis with a 100bhp engine, similar to the 90bhp Alfa 1900, and make it capable of 125mph (201kph). BAT 5, constructed in 1953, recorded an excellent drag coefficient of 0.23, but BAT 7, built a year later and shown here, was even more wind-cheating, at 0.19. No car on sale today can better BAT 7's aerodynamics.
Nor its drama-its gigantic tailfins were like scrolled metal, their rising profile and inward curve sheer automotive theater, and the contours of windshield, wheel apertures, and copious air intakes created a car of endless visual fascination. BAT 9 was never scientifically tested in the same way, but unlike earlier incarnations, it was a practical road machine that covered thousands of miles. Overall, the main legacy of the BAT trio was a demonstration of Bertone's mastery of metal-shaping.