Bugatti's Veyron is not the very latest supercar we could have chosen to conclude this journey through 120 years of extraordinary automobiles. But it is highly appropriate as a truly grand finale.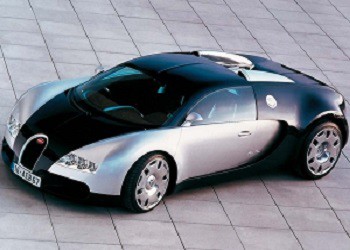 Bugatti Veyron 2005
YEAR REVEALED 2005
PLACE OF ORIGIN Molsheim, Alsace, France
HISTORICAL STATUS production car
ENGINE W16-cylinder, 7,993cc (488ci)
MAXIMUM POWER 987bhp
LAYOUT mid-mounted engine driving all four wheels
BODYWORK two-door, two-seater station wagon
TOP SPEED 407kph (253mph)
NUMBER BUILT 300
Because the Veyron is still the fastest accelerating 0–62mph (0–100kph) in 2.46 seconds production road car ever seen. And the most expensive of all time. With exactly 987 bhp, it's one of a tiny handful of so-called "standard" models to get anywhere near a four-figure power output, and with the second-highest ever top speed.
Volkswagen acquired the revered Bugatti brand in 1998, and resolved to do something spectacular with it, but it took until 2005 to build the factory and finalize the car itself; the Veyron 16.4. Mounted centrally was something never seen before in any car: a W16 engine with four banks of four cylinders-the equivalent of two V8 engines joined together.
This puts its amazing power, boosted by four turbochargers, to the road via a sequential seven-speed gearbox and four-wheel drive. There are a grand total of ten radiators to keep the car cool. The price for all this, plus fastidious hand-built quality, is a quoted €1.1m.
But Volkswagen will make scant profit on its huge investment in making its new Bugatti a truly ultimate car. The vindication is that the Veyron has been independently proven to reach its 253mph (407kph) maximum speed. Active aerodynamics deploy automatically at 137mph (220kph) and "everyday" top speed is limited to 233mph (375kph).