The Mini provided cheap transport, technical brilliance, motor sport dominance, and classless style. It's also Britain's best-ever selling car. It was conceived by one man, Alec Issigonis, a gifted engineer hired by the British Motor Corporation in 1956.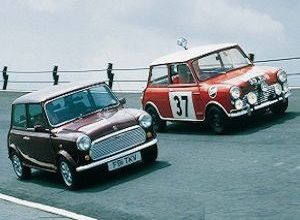 BMC Mini 1959
YEAR REVEALED 1959
PLACE OF ORIGIN Birmingham, West Midlands, UK
HISTORICAL STATUS production car
ENGINE four-cylinder, 52–78ci (848–1,275cc)
MAXIMUM POWER 76bhp
LAYOUT front-mounted engine driving the front wheels
BODYWORK two-door, four-seater sedan and station wagon
TOP SPEED 100mph (161kph)
NUMBER BUILT 5,387,862
Almost immediately, the Suez crisis emerged, forcing gas rationing on British motorists, and creating an urgent need for up-to-date economy cars. Issigonis envisaged a highlycompact "cube," in which the four passengers would sit, headed by a spacesaving front-wheel drive system. Issigonis's imagination overcame the small dimensions by mounting the gearbox under the engine instead of behind it, and specifying a compact rubber cone suspension system.
Packaging was the 10ft- (3m-) long Mini's greatest strength. The interior was staggeringly roomy. Every square inch was used: there were big door bins for storage; a parcel shelf instead of a dashboard; and tiny, space-saving 10in (25cm) wheels. Launched on August 26, 1959, as the Austin Mini Seven and Morris Mini-Minor, the £496 starting price made it virtually the cheapest car on sale.
Buyers adored the Mini for its thrift and its verve. Its tenacious road grip meant it ran rings around expensive sports cars, it was easy to park, and it looked chic. There were numerous updates during its 41-year life, but the investment needed to build it meant that, for years, it sold at a loss, adding to the rocky fortunes of BMC and its successors.