There's an embarrassment of riches when it comes to extraordinary Cadillacs, but this racy number is a highly significant car. It heralded several key design features that became synonymous with Cadillac's production cars of the late 1950s.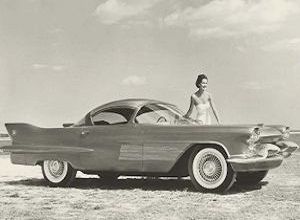 Cadillac El Camino 1954
YEAR REVEALED 1954
PLACE OF ORIGIN Detroit, Michigan
HISTORICAL STATUS prototype
ENGINE V8-cylinder, 331ci (5,422cc)
MAXIMUM POWER 230bhp
LAYOUT front-mounted engine driving the rear wheels
BODYWORK two-door, two-seater coupé
TOP SPEED unknown
NUMBER BUILT one
The El Camino-short for El Camino Real, or Royal Highway, another name for America's Highway 101-was one of a trio of Cadillac show cars, together with the Cadillac LaEspada and Park Avenue. They were part of the 1954 Motorama, General Motors' traveling showcase of futuristic concept cars that toured the US that year.
The El Camino's distinctive roof styling, with fiberglass "saddles," a brushed aluminum top, and curved glass, previewed the Cadillac Eldorado Brougham of 1955, while the tailfin designs were also introduced gradually from 1955 until every Caddy had them by 1958. It was similar for the winglike bumpers culminating in bullet-tipped overriders and the quadruple headlights-all universal on Cadillacs by 1958.
The pearlescent silver painted El Camino paved the way, and softened the impact of some radical styling ideas of the near-future. General Motors' press release for the car frothed with hyperbole, explaining how the car was "regally styled to blaze across the highways of our great land." Ironically, though, it was a non-running mock-up, made from fiberglass. The compact El Camino hinted at a Cadillac luxury two-seater to come, but no such model hit showrooms until the Allante of 1987.