The shimmering blue Ikenga made its public debut in London's Harrods department store in October 1968. It was the dreamchild of Brooklyn-born, 29-year-old David Gittens, and 30,000 people flocked to admire it.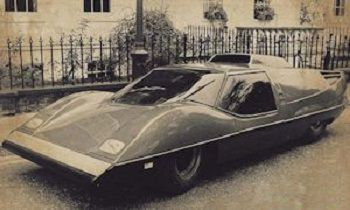 Ikenga 1968
YEAR REVEALED 1968
PLACE OF ORIGIN London, UK
HISTORICAL STATUS prototype
ENGINE V8-cylinder, 396ci (6,489cc)
MAXIMUM POWER 325bhp
LAYOUT mid-mounted engine driving the rear wheels
BODYWORK single-canopy, two-seater coupé
TOP SPEED 162mph (261kph) (claimed)
NUMBER BUILT one
Gittens' work as an advertising photographer brought him to London in 1964, and a casual chat one day about the tarnished image of British cars was the impetus to design his own. But he needed help to build it, a chassis, and hard cash.
The first came from race engineer Ken Sheppard and north London body-builders, Williams & Pritchard. The mid-engined chassis was from a secondhand Mclaren Mk1 racing car. And finally, Copleys merchant bank in the City provided the finance.
At 38in (97cm) high, it was extreme, with the entire front and rear sections of the car swinging open, clamshell-style, to reveal the cramped, leather-clad two-seater cockpit with square, tilt-away steering wheel, and Chevrolet Camaro Z28 engine. But when Charlie Williams, who built the body, died in 1969, plans to make the car with American backing fell apart. Gittens returned to the US, the only prototype seized by his main creditor, Copleys Bank.