The poster boy for the 1970s supercar boom, this rare and exotic road machine was first revealed as a prototype in the spring of 1971. The 25th Anniversary edition, to celebrate Lamborghini's dawn in 1962, was fundamentally the same car, but by 1988 it possessed a near-mythical reputation for mid-engined style and excitement.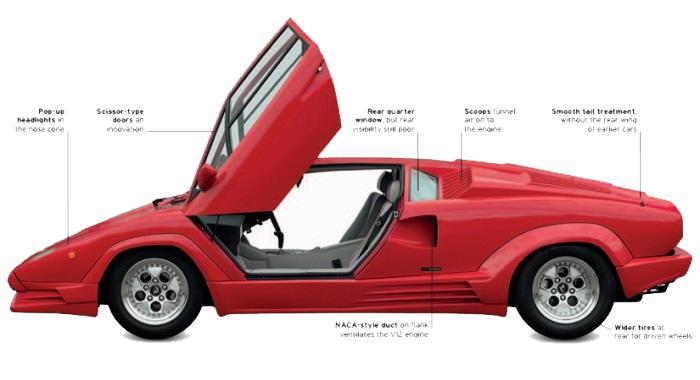 The word countachcomes from the dialect of the Piedmont region in northern Italy; it is an expression of approval of a beautiful woman from admiring men.

Founder's star sign
Company founder Ferruccio Lamborghini named the Lamborghini Miura after renowned Spanish bullfighter Antonio Miura. But the company emblem of a charging bull signified Ferruccio's own star sign, Taurus. He sold his car-making firm in 1971, three years before the Countach went on sale.
AFTER SEVERAL mid-engined supercar prototypes had stunned visitors at late 1960s motor shows, Lamborghini and design house Bertone were determined to be first to put such a car in customers' hands. Lamborghini's engineers were tasked with designing the tubular spaceframe chassis for "Project 112." Into this, the V12 power plant earlier seen in the Lamborghini Miura was installed, behind the two seats but ahead of the rear wheels.

| | |
| --- | --- |
| Model | Lamborghini Countach, 1974-1990 |
| Assembly | SantAgata Bolognese, Italy |
| Production | 2.042 (incl 650 Anniversary cars) |
| Construction | Spaceframe chassis, aluminium panels |
| Engine | 3.929-5.167 cc, V12 |
| Power output | 448 bhp (5,2l) at 7000 rpm |
| Transmission | Five-speed manual |
| Suspension | All-independent coil |
| Brakes | All-round discs |
| Maximum speed | 183 mph (295 km/h) (5,2l) |
Specifications Lamborghini Countach 1974–1990
The engine was longitudinally positioned, with the five-speed gearbox in front, and the driveshaft ran back through the oil sump to the rear differential. Bertone's star designer Marcello Gandini created the aggressive wedge-shaped design, and the car was manufactured with aircraft-grade aluminum. The prototype was called the LP500, and the first production car arrived in 1974 as the Countach LP400 with a 3,929 cc engine.