Motoring history is littered with marques that failed despite customer loyalty and interesting products. Jowett is a prime example, and this little sports car was its last gasp.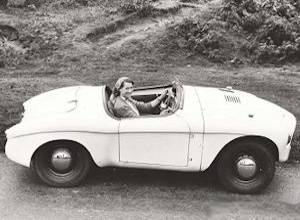 Jowett Jupiter R4 1953
YEAR REVEALED 1953
PLACE OF ORIGIN Bradford, Yorkshire, UK
HISTORICAL STATUS prototype
ENGINE flat-four-cylinder, 91ci (1,486cc)
MAXIMUM POWER 64bhp
LAYOUT front-mounted engine driving the rear wheels
BODYWORK two-door, two-seater roadster
TOP SPEED 100mph (161kph)
NUMBER BUILT three
Had the Jupiter R4 entered production in 1954, as planned, it would have been the first British car with a body made of fiberglass-the plastic laminate pioneered by Chevrolet's 1953 Corvette. The Jowett Javelin, an advanced family car, had caused a real stir in 1947. The Jupiter roadster that followed three years later used the Javelin's flat-four overheadvalve engine in a special spaceframe chassis.
In various forms, the Jupiter then enjoyed a stellar motor-sport career, including class wins on the 1951 Monte Carlo Rally and the 1952 Le Mans 24-hour endurance race. This was all far removed from Jowett's stock-intrade, a line of basic twin-cylinder delivery vans. But sports cars made promising export material. The short-chassis R4 was intended to capitalize on the Jupiter's reputation, with a body style copying the rare and exotic Ferrari 166 Barchetta.
One all-steel prototype and two experimental plastic R4s were built, all boasting overdrive and an electric engine cooling fan. They were the work of Roy Lunn, later closely involved in developing the Ford GT40. Sadly, though, a decision to start manufacturing its own gearboxes proved disastrous for Jowett-the high level of rejects bringing Javelin and Jupiter assembly to a halt. The resulting cashflow problems brought the firm down, and the R4 with it.