The iconic Batmobile of the 1966 Batman TV series, starring Adam West and Burt Ward, was famously based on a real-life "concept" car: the Lincoln Futura.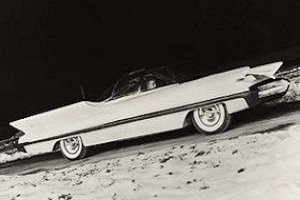 Lincoln Futura 1955
YEAR REVEALED 1955
PLACE OF ORIGIN Detroit, Michigan, and Turin, Italy
HISTORICAL STATUS prototype
ENGINE V8-cylinder, 390ci (6,384cc)
MAXIMUM POWER unknown
LAYOUT front-mounted engine driving the rear wheels
BODYWORK two-door, two-seater roadster
TOP SPEED unknown
NUMBER BUILT one
Designed at Ford, and built in Italy in 1955 by Ghia for a reputed $250,000, it was driven through New York on May 3 that year by Benson Ford, Henry Ford's grandson. Repainted red from its original pearlescent light blue, the Futura then starred alongside Debbie Reynolds and Glenn Ford in the 1959 MGM movie It Started With A Kiss.
Afterward, it was acquired by leading Hollywood custom-car king George Barris, who fancied the Futura-with those gigantic tailfins and sinister hooded headlights-might come in handy. He was right: in 1965, ABC asked Barris to create a dramatic car for its TV incarnation of DC Comics' superhero Batman. With just three weeks to complete the job, Barris realized his Futura was already halfway there. He kept the chassis, Ford V8 engine, and basic profile unaltered, while artfully modifying the nose section to resemble a bat-like facemask.
He then extended the leading edges of the Futura's already huge fins to evoke bat wings, and scalloped their trailing edges for an even more swooping effect. The concealed wheelarches were opened up, and the car's color changed to black, with fluorescent red highlights. The original car has remained in Barris's ownership. The Futura ultimately achieved immortality by establishing the style for all Batmobiles since: long, dark, and powerful.