Guy Ligier-Formula One team owner, motorway construction tycoon, and confidante of French president François Mitterran-was an outside bet as a provider of ultra-small cars for marginalized motorists.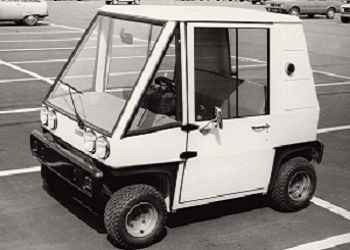 Ligier JS4 1980
YEAR REVEALED 1980
PLACE OF ORIGIN Abrest, Vichy, France
HISTORICAL STATUS production car
ENGINE single-cylinder, 3ci (49.9cc)
MAXIMUM POWER 3.2bhp
LAYOUT mid-mounted engine driving the rear wheels
BODYWORK two-door, two-seater sedan
TOP SPEED 28mph (45kph)
NUMBER BUILT approx 25,000 (to 1987, including 125cc JS8 and diesel models)
Yet in 1980, the Ligier JS4 became an instant best-seller in its class. Such tiny cars, with either sub-3ci (50cc) gas engines or larger diesels, could be driven by anyone over 14 without a driver's license, tax, annual roadworthiness test, or even license plates.
This gave them unique appeal to young people averse to scooters and mopeds, although actually the usual buyers were senior citizens. Designed by Ligier's son Philippe and derived from the company's tractor cabs, its boxy body was made of steel rather than plastic, and it enjoyed the sophistication of four-wheel independent suspension.
If one wheel came off, the car could still be driven on three, with its low center of gravity and carefully balanced wheelbase and track. The two-stroke Motobecane moped engine, with automatic transmission, would never bestow high performance, but the huge windshield, fat tires, quad-headlamps, and matt black wheelarches and bumpers made it oddly handsome.
The racing car heritage ("JS" in the title saluted Ligier's friend Jo Schlesser, the late Formula One driver) was another reason 1981 sales reached an amazing 6,941.