This machine revolutionized Formula One. It opened a new chapter in construction methods by introducing carbon-fiber-composites (CFCs) to what was then a sceptical racing community.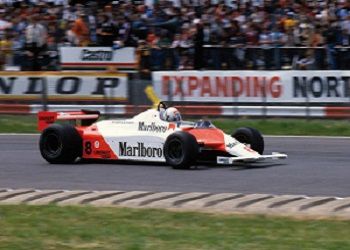 McLaren MP4-1 1981
YEAR REVEALED 1981
PLACE OF ORIGIN Woking, Surrey, UK
HISTORICAL STATUS Formula One racing car
ENGINE V8-cylinder, 183ci (2,993cc)
MAXIMUM POWER 495bhp
LAYOUT mid-mounted engine driving the rear wheels
BODYWORK single-seater racer
TOP SPEED 200mph+ (322kph+ )
NUMBER BUILT seven
Until the MP4, the first result of Ron Dennis's arrival at the hallowed McLaren team, Formula One car chassis were built from aluminum-up to 50 different sections in a typical monocoque.
The MP4, however, used just five carbon fiber moldings in a design conceived by free-thinking chief designer John Barnard and produced in the US by Hercules Aerospace. The carbon fiber proved hugely stronger than metal, the stresses being fed along the axis of the strands.
It was hard for seasoned engineers, used to working with metal alone, to grasp. But the driver safety inherent in this stiffer material was obvious after John Watson's MP4 was nearly destroyed in a crash at the 1981 Italian Grand Prix-he walked away largely unscathed. Hercules Aerospace still has the wreck to show its clients.
Teammate Andrea De Cesaris also survived over 20 accidents in 1981 alone. The McLaren MP4-1 made a good start in 1981, Watson winning the British Grand Prix; the MP4-1/B got into its stride with four victories in 1982, before the MP4-1/C became less competitive in 1988. Today's Vodafone McLaren Mercedes MP4-23 cars trace their roots directly back to the MP4-1, but so can every car on the Formula One grid-CFC is now the standard construction material.