Founded in 1926, Maserati was purely a manufacturer of racing cars for its first 20 years. By 1934, it was the planet's largest builder of single-seater racers. The 250F was the result of unique expertise in Grand Prix/Formula One techniques.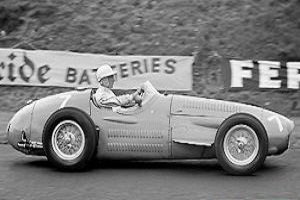 Masserati 250F 1954
YEAR REVEALED 1954
PLACE OF ORIGIN Modena, Italy
HISTORICAL STATUS Formula One racing car
ENGINE six-cylinder, 152ci (2,490cc)
MAXIMUM POWER 220–270bhp
LAYOUT front-mounted engine driving the rear wheels
BODYWORK single-seater racer
TOP SPEED 185mph (298kph)
NUMBER BUILT 34
Adhering to the sport's rules for 153ci (2,500cc) cars, the 250F boasted a competent tubular chassis frame, independent wishbone/coil spring front suspension, and a light De Dion tubular rear axle. The centerpiece of the car was its superb engine, a straight-six, un-supercharged unit derived from Maserati's A6 Formula Two, but with increased capacity, and three twin-choke Weber carburetors.
The revamped 1957-season 250Fs came with a five-speed gearbox, fuel injection, more power, better brakes, and even more svelte bodywork. Juan Manuel Fangio's victory at the Nürburgring in the German Grand Prix of August 1957 was epic, his 250F four-wheel drifting its way up the field in the second half of the race to catch and overtake Peter Collins's leading Ferrari. It was the car's finest hour and a 5th World Championship for Fangio. In terms of mixing balance with speed, the 250F was just about the best.