The Mercedes 300SL was the first true "supercar," a high-tech, 150mph (241kph) road machine built expressly for high-speed driving. However, prototypes of the car were pure competition machines, bearing the internal codename of W194.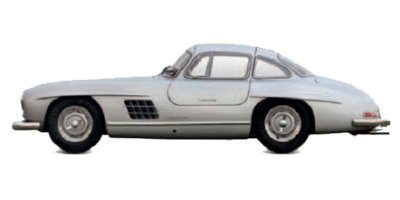 Mercedes Benz 300SL 1954
YEAR REVEALED 1954
PLACE OF ORIGIN Stuttgart, Germany
HISTORICAL STATUS production car
ENGINE six-cylinder, 183ci 2, (996cc)
MAXIMUM POWER 215bhp
LAYOUT front-mounted engine driving the rear wheels
BODYWORK two-door, two-seater coupé
TOP SPEED 150mph (241kph)
NUMBER BUILT 1,400
In 1952, these 300SLs won the two most gruelling endurance races of the day-the Le Mans 24-hour race and the Carrera Panamericana. Their complex tubular spaceframe chassis, under an aluminum body, had unusually high sills, and Mercedes-Benz overcame cockpit access problems with spectacular "gull-wing" doors.
Hinged at the top of the roof's apex, they opened outwards and upwards, and resembled a flying seabird when both were up together. Mercedes' US importer pressed for a production version of this exciting car, and in 1954 the German factory obliged with the 300SL. Far more elegant with its elongated tail and heavy chrome bumpers, blistered wheelarches were also added to aid aerodynamic stability at high speed.
The 180bhp of the hottest racing 300SLs was upped to 215bhp thanks to Bosch fuel injection, a world first on a production car. It was costly, with a price tag twice that of comparable cars, such as the Jaguar XK140. The 300SL was the preserve of the superrich, and a favorite with celebrities and off-duty racing drivers. However, its suspect "swing axle" rear suspension needed expert skills on twisty roads. Many petrified new owners found themselves heading for roadside undergrowth-backward.