Gordon Murray enjoyed the rare privilege of building a pure supercar, no-expensespared, with the McLaren F1. The ultimate roadgoing machine of its day, it remained the world's fastest production car for ten years.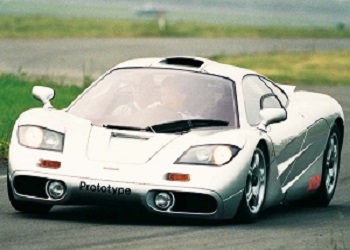 McLaren F1 1992
YEAR REVEALED 1992
PLACE OF ORIGIN Woking, Surrey, UK
HISTORICAL STATUS production car
ENGINE V12-cylinder, 370ci (6,064cc)
MAXIMUM POWER 627bhp
LAYOUT mid-mounted engine driving the rear wheels
BODYWORK two-door, three-seater coupé
TOP SPEED 231mph (372kph)
NUMBER BUILT 107 in total including prototypes and racing editions
Murray's background as chief Formula One designer at Brabham, then McLaren, left him with a burning passion to build a road car. His vision called for the fastest, most involving road car ever, yet also one you could happily drive into the city center. Ideas at McLaren crystallized during 1988, and in March 1989, Murray formally announced his plans.
He would be heading design and development, Lotus stylist Peter Stevens would pen the car's shape, and BMW Motorsport agreed to furnish a custom-made V12 engine. Everything revolved around Murray's ideals, such as the three-seater cabin with the driver sitting centrally ahead of two passengers, and the world-first use of a carbon fiber composite monocoque.
Weight was crucial to the anticipated performance: an unbelievable 1 ton (1,000kg). With 627bhp on tap, the performance Murray wanted was made real. Formula One driver Jonathan Palmer drove one at Italy's Nardo test track in August 1993 to an incredible 231mph (372kph).
Such performance made the F1 invincible-an F1 GTR came first in every endurance race they entered, bar two, while the F1 was triumphant at Le Mans in 1995. The 635,000 price reflected development costs and the 6,000 man hours they took to build.