Now reduced to a subsidiary of Fiat Chrysler, Lancia's long history blended engineering innovation with style in a manner that few companies could rival. Since its creation in 1906, the Turin-based company, its cars, and drivers have enjoyed a glittering career in motorsports, particularly in recent years in international rallying.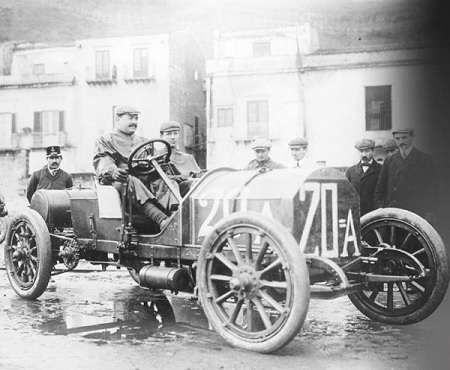 Vincenzo Lancia was a restless autodidact who quickly rose to become a chief engineer and test driver at Fiat. His driving was so impressive, in fact, that he was invited to race for the company, and soon earned a reputation for speed. His most notable victory came in 1904, when he thundered across the line of the 230 mile (370 km) Coppa Florio in a 10.5 liter Fiat.
With backing from friends, Lancia became an automaker in his own right in 1906 after buying a factory from Itala and hiring about 20 staff. In less than a year, their first car was up and running; but almost immediately the car and the blueprints needed to build it were destroyed in a disastrous fire. It took seven months to ready a replacement, powered by a 2.5 liter, four-cylinder engine of a novel, two-stage design.
More than a dozen of these replacement cars were built and sold; a second production model followed and by 1911, with export sales to the UK and the US on the rise, a much larger factory was needed. Unusual for the time, the company not only built bodies for its own cars, but also supplied engine and chassis assemblies to coachbuilders, such as Locati e Torretta, Farina, and (in the UK), Maythorn.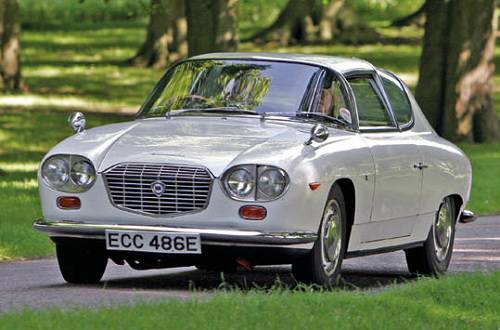 Successive vehicle types in those early days were simply called Beta, Gamma, Delta, all the way through to Zeta. When the company had exhausted the Greek alphabet, a long line of cars, from the 1931 Artena to the 1972 Fulvia, then took their names from the daughters of the rulers of Ancient Rome.
Some of Lancia's best designs were among them and included several highly significant cars, such as the 1922 Trikappa with its narrow-angle V8, and a year later the Lambda, which introduced unibody construction. Another star was the 1937 Aprilia, launched shortly after Vincenzo Lancia's death, which scored various victories, including taking five of the top six places for its class in the 1938 Monte Carlo Rally.
Vincenzo Lancia's passion for technical innovation meant that, in the early years, his cars tended to be costly and upmarket. It was 1930 before the factory addressed the issue of mass transportation, which it first did with the little Augusta. This model had a V engine, but with four cylinders rather than eight. It sold more than 14,000, an impressive total helped in no small part by its perhaps surprising popularity among racing drivers of the day.
Augusta owners included some of racing's most heroic figures such as Tazio Nuvolari and Achille Varzi, something which helped to build Lancia's reputation as a marque for enthusiasts and the cognoscenti. This reputation was to last far longer than warranted for many of its later cars, perhaps sustaining the company through some tricky times. Further class wins followed in major events such as the Spa 24 Hour and the Alpine Rally, and did so even though the factory lacked a dedicated competition department until well into the 1950s.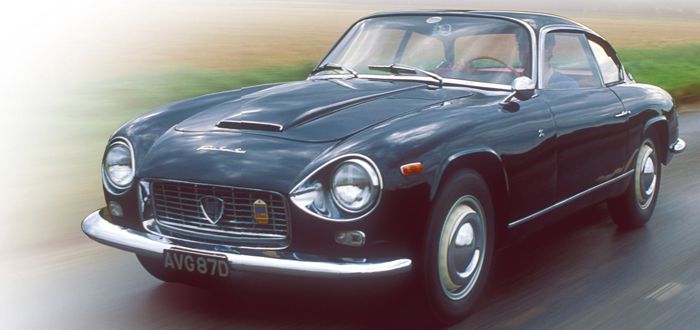 The establishment of one led the company into a brief flirtation with Formula 1 before it was decided to leave single-seater racing to the likes of Cooper, Lotus, and Ferrari.
The other big news in the mid-1950s was the decision of Lancia's widow and son to sell the firm to the millionaire, Carlo Pesenti. Having made his money in cement, Pesenti spent much of it on a wide-ranging program of modernization and expansion. For many Lancia diehards, the new company lost part of its soul at this point, but cars such as the Flavia Zagato Coupe and the Fulvia HF showed it still had plenty to offer.
Compact, light, and stylistically distinctive, these cars are now very desirable and, while always much cheaper than the Stratos, they are also becoming increasingly valuable as collectors' cars. Throughout the same period, financial imperatives required the company to produce many more unremarkable machines,as well (family cars such as the Beta, Thema, and poorly named Dedra), but marque enthusiasts are happy to forget these and to concentrate instead on what Lancia did best.